CaucusRoom Live delivers encrypted video conferencing and live-streaming, online voting and top-line security at the click of a button for meetings of any size or type.
With CaucusRoom Live, you have full control over your meeting experience, flexibility to build events that fit your needs and the tools to accomplish your goals. Host secure internal meetings or unlock powerful broadcasting capabilities to reach thousands with your message.

Put simply, CaucusRoom Live is a safe place to meet, train, or rally to support your favorite cause.
Contact a sales representative to schedule a demo of CaucusRoom Live today!
Don't need a demo? Ready to sign up? Create your CaucusRoom Group, and look for this ad on your group's main page: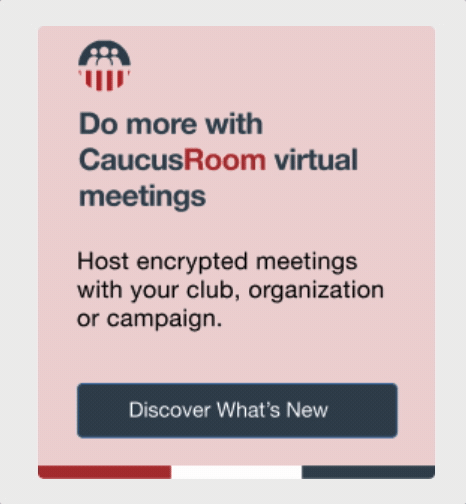 CaucusRoom Live Quick Start Guide